Meet Dwayne Portis
My website is not complicated; Dent Perfect is owned and operated by myself. It is not a large mill where different instructors are teaching many professions.
Here's what you get with me:
Inventor of the PTP training method:


PRECISION
TOOL TIP
PLACEMENT

which speeds up your ability to finish dents to perfection
Experienced in training techs who want to be a hail repair tech
Expert in training techs who have been trained at other schools, but still cannot finish a dent to perfection
Customizes a one on one training curriculum for each and every student
Will teach you the art of pressure release
Glue pulling expert
Has been in the automotive reconditioning business since 1977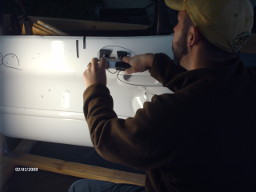 Relying on my experience at removing all kinds of dings and dents on everything from cars and trucks to motorcycles without damaging the paintwork, I can teach you how to make a good living for yourself.
How much income potential you have is totally up to you. You could work for someone else, or own your own business. Some dent repair techs travel to fix hail damage, some work on car lots with damaged vehicles, or even find employment with insurance companies. The possibilities are endless.
Get Your Questions Answered
So you're interested in learning the dent repair business and you want to know if my program is right for you. Read on to get answers to the questions you may have that will help you make a decision. Once you're ready, get in touch to set a start date.
The cheapest way is not always the best way. More than likely you will have only one chance to learn the art of PDR, so why don't you do it the right way.